中国网:CSCLF held event promoting well-rounded development of the youth
来源:中国网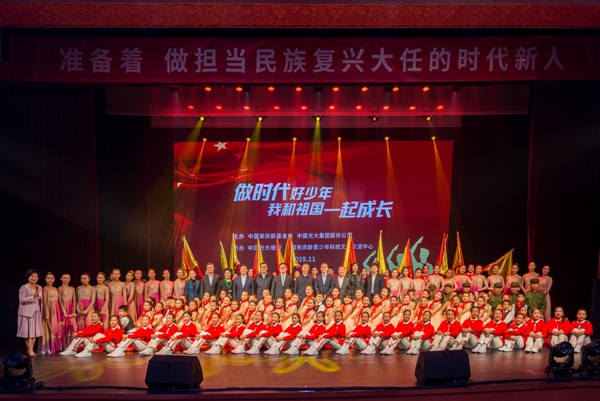 With a theme of "Growing up with the motherland and aiming high in the new era", an event to promote patriotic education among teenagers and encourage their rounded development was held jointly by China Soong Ching Ling Foundation (CSCLF) and China Everbright Group, a financial conglomerate, in Beijing this Tuesday.
Through inspirational speeches, dance and music performances, renowned veterans, artists, and entrepreneurs shared with their young audience stories about merits such as selflessness, diligence, and devotion to the country.
Wang Jiarui, chairman of the CSCLF, expressed the hope for teenagers to achieve well-rounded development in his speech that reaffirmed one of the foundation's missions – a commitment to caring for and protecting the younger generation.
"I hope you value your time, and seize the great opportunities of the new era to forge ahead with our motherland and shoulder the responsibilities of realizing the Chinese dream of national rejuvenation," Wang said.
Jing Dunquan, vice-chairman of the CSCLF hoped teenagers would love both their country and their compatriots, and develop good thinking, good deeds as well as good habits to embrace the future positively.
Speaking about the CSCLF-Everbright Bank special fund, Wu Lijun, general manager of China Everbright Group, stressed it was set to help young people living in impoverished areas by improving school facilities and broaden their vision with greater knowledge.
| | |
| --- | --- |
| | 丝路童心筑梦未来 |